Resources
Favorite Links
The following is a list useful links that I have compiled. If you wish to be added to this list, please send me an e-mail.
Favorite Sites
An interesting blog with interesting articles.
This an excellent website to send UNBELIEVERS to! When arriving at the site press "Intelligent Design and Evolution."
This website offers proof of scripture through the creation!
Read Senior Pastor Christopher Burcham's regular articles in this local publication. Rev. Burcham is the Senior Pastor of Union Hill Baptist Church in Clemmons.
Evangelism in the Triad.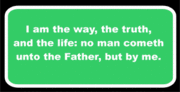 e-Sword is a fast and effective way to study the Bible.
Heart Cry is a missionary society with one great and overriding passion: that God's Name be Great among the Nations (Malachi 1:11)