Tract Ministry
Tract Ministry
The Tract Ministry is a Christian ministry that exists to glorify the Lord Jesus Christ. We want nothing more than to "walk in a manner worthy of the Lord, to please Him in all respects, bearing fruit in every good work and increasing in the knowledge of God" (Colossians 1:10).
In addition to proclaiming the gospel, the Tract Team is committed to empowering Christians to do the same. "So faith comes from hearing, and hearing by the word of Christ" (Romans 10:17). We want to help Christians overcome and cast down the idols of fear and be bold for the Lord Jesus Christ.

HOW TO USE TRACTS
For many of us, sharing the gospel isn't as easy as we would like it to be. We have a desire to share our faith, but we are either fearful of how we will be received or we don't quite know how to bring up the subject.

A well-written, biblically-sound gospel tract is an easy and effective way to share your faith with family, friends, co-workers and even strangers. A simple "this is for you" or "did you get one of these?" while handing out gospel tracts can put the message of Jesus Christ into the hands of hundreds, even thousands, within a few hours and can pave the way for more personal one-to-one witnessing encounters.
As you grow in the grace and knowledge of the Lord Jesus Christ, through the practice of biblical evangelism, distributing gospel tracts will become easier. You will likely reach a point where you will want to share your faith by speaking to people. When you're ready to take this important step, please contact us. We want to teach you how to use gospel tracts as "ice breakers" for one-to-one conversations with the lost. Who knows—you may even want to try your hand at open-air preaching one day. We can help you with that, too.
THE GOSPEL
In order to correctly proclaim God's gospel to the world, His people must accurately understand His word.

THE GOSPEL presentation has in recent years become grossly tarnished. The "good news" of Jesus Christ is being delivered in a manner that actually accommodates the self-absorbed desires of sinful man rather than exposing them for what they truly are, entirely depraved.

There is this notion within certain 'evangelical' circles today that if we adapt the truth of the gospel message with the aim of making it more acceptable or comfortable to the target audience, we will "win more lost souls to Jesus." Such attempts produce nothing more than false converts.
In order to be spirit empowered heralds of the true gospel of Jesus Christ, it is vital that we know the meaning of Scripture. To know the meaning of Scripture, we must study the Scripture. Paul instructed his young protégé, Timothy to, "Be diligent to present yourself approved to God, a worker who does not need to be ashamed, rightly dividing the word of truth. (2 Timothy 2:15). Timothy's responsibility with respect to "the Truth" is a term that means, literally "to cut straight."

As you go out with the good news of Jesus Christ, study and "cut it straight" to the world.

BE A LABORER
Once someone becomes a genuine convert, he sees that he has tremendous evangelistic responsibility. He begins to see derivatives of the word "laborer" over and over in Scripture. Jesus spoke of His disciples reaping where they "have not labored" (John 4:37,38) and of others who "labored in the Lord" (Romans 16:12). We are told that our "labor is not in vain in the Lord" (1 Corinthians 15:58). In 1 Thessalonians 2:9 Paul said, "For you remember, brethren, our labor and toil; for laboring night and day, that we might not be a burden to any of you, we preached to you the gospel of God."
A "laborer" is someone who is prepared to go into the harvest fields and suffer the heat of the noonday sun. He is prepared to sweat for the Lord. It is someone who is willing to apply himself to the irksome task of evangelism, of which Jesus said that there is a shortage.


I believe I know of two major reasons why there is a shortage of laborers. The first is because of a neglected command to pray. Look at what Jesus said: "The harvest truly is great, but the laborers are few; therefore pray the Lord of the harvest to send out laborers into His harvest" (Luke 10:2, emphasis added).
By Ray Comfort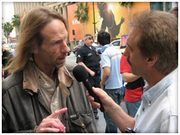 Ray Comfort Witnessing On the Streets